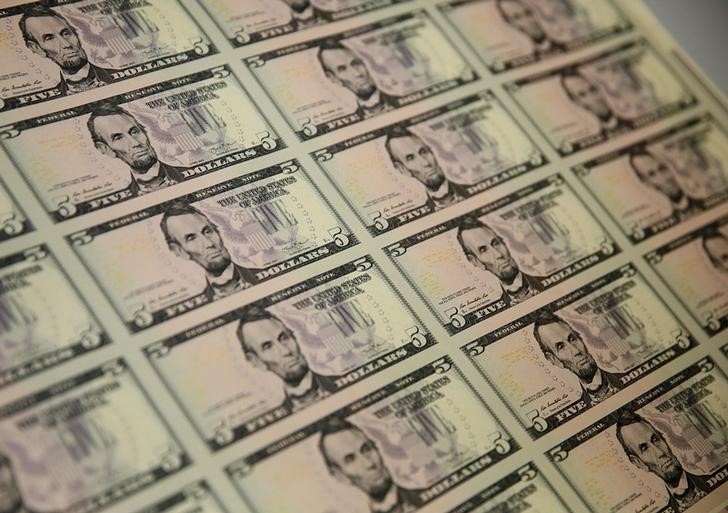 © Reuters. The dollar remains near a bottom of a month

Investing.com – The dollar remains close to its lowest in a month against a basket of other currencies during a session quiet on Friday, while the minutes of the November meeting of the us federal Reserve continues to weigh on the greenback.
The exchange volumes should have remained relatively low prior to the Thanksgiving holiday in the United States on Thursday, which is also a national holiday in Japan.
The dollar fell after the minutes from the Wednesday of the last Fed meeting which showed that "many participants" were worried by the fact that inflation would remain below the 2% objective of the bank.
The minutes echoed the comments of Janet Yellen, president of the Fed, at the beginning of the week, indicating that it was not some of the inflation outlook.
While the increase in rates in December is still almost fully expected, investors reduced expectations of further rate hikes in 2018.
The index dollar, which measures the greenback's strength against a basket of six major currencies, changes little 92.99 at 05:15 a. m. AND (09:15 GMT), its lowest level since October 19.
The EUR/USD ahead of 0.17% at 1.1870, while the GBP/USD is advancing 0.14% to 1.3327.
In a report, the German research institute Ifo said the business climate index rose to 117.5 this month, from 116.7 in October, compared to forecasts of a reading of 116.6.
Elsewhere, the yen declined with USD/JPY up 0.20% to 111.44 while the USD/CHF is stable at 0.9811.
The australian dollar changes little with the AUD/USD fell 0.21% 0.7609 while the NZD/USD is losing 0.30% at 0.6868.
Meanwhile, the canadian dollar ahead, with the USD/CAD up 0.23% to 1.2743.