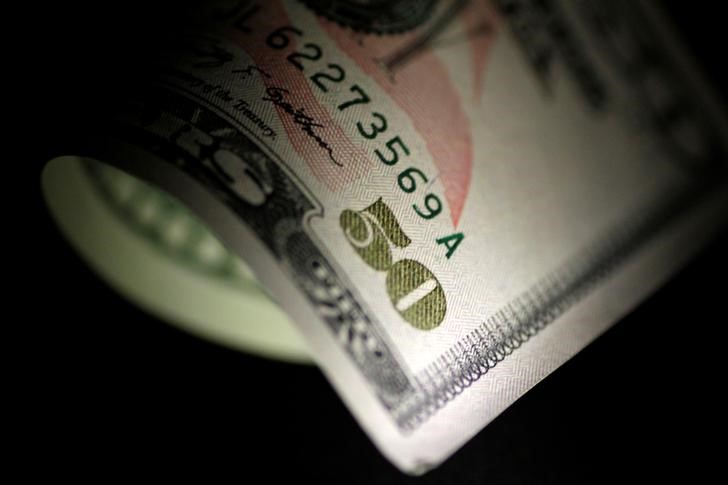 © Reuters. The dollar declined on geopolitical tensions

Investing.com – The dollar was slightly lower Wednesday in the face of a basket of other major currencies, while the caution back on the market while concerns on the trade between the United States and China were on the rise, and as tensions rise in Syria.
The dollar index, which measures the greenback's strength versus a weighted basket based on the trade of six major currencies, was down 0.17% to 89,17 at 03:25 AM (07:25 GMT).
The chinese president Xi Jinping and us president Donald Trump have both made remarks conciliatory on trade, what hope to the investors, could open the way for negotiations to avoid a real trade war between the two leading economies in the world.

But investors have been left behind following a report stating that preliminary talks had already failed.
To add to the malaise of the market, the United States and its western allies are discussing a possible military attack against Syria in response to a chemical attack alleged during the course of the weekend. Russia has urged the United States to refrain from taking military measures, in the midst of growing tensions between the two powers.
The dollar was down against the yen, with USD / JPY down 0.15% to 107,03. The yen is often sought by investors in times of market turmoil and political tensions.
The euro is at a top of two weeks, with the EUR / USD rising 0.23% to 1,2383.
The single currency remained supported after the decision-maker Ewald Nowotny, the european central Bank, has said on Tuesday that it was time to "normalize" its monetary policy.
The british pound was also higher, with GBP / USD rising 0.29% to 1,4215.

Demand for sterling continued to be underpinned after the member of the monetary policy committee of the Bank of England, Ian McCafferty, has said on Tuesday that the interest rate the british should be addressed without delay.
The australian dollar, sensitive to risk, has declined 0.18% to 0,7747, while the new zealand dollar was little changed, with a decline in the NZD / USD to 0,7359.