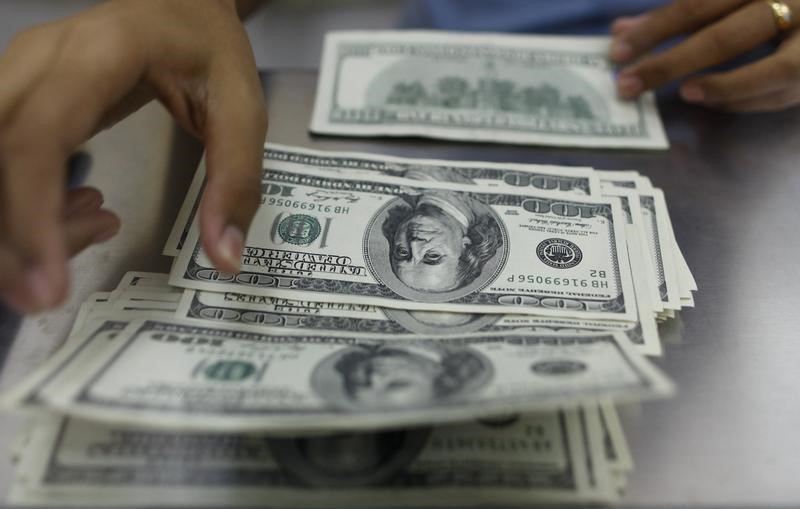 © Reuters. The dollar continues to fall on the last day of the year

Investing.com – The dollar continued to fall against other major currencies Friday, the last trading day of the year.
Transaction volumes are expected to remain low ahead of the weekend of the New Year.

The dollar index, which measures the greenback's strength versus a weighted basket based on the trade of six major currencies, was down 0.27% 92.09 at 4: 12 a.m. (ET) (16: 12 GMT).
The greenback fell for the fourth day in a row and was at its lowest level since the end of September. Some analysts believe that this decline is due to massive sales after president Donald Trump has signed the tax reform. The index was down 0.9% since the beginning of the year.
Against the aussie, the dollar was also lower, approaching its lowest level since 20 October. The USD / CAD has declined from 0.25% to 1,2537. The greenback also fell against the japanese yen, with the USD / JPY down 0.30% to 112,56. During this time, the USD / CHF was down 0.27% to 0,9759.
Elsewhere, the euro has reached its highest level in three months, supported by the decline of the dollar. The EUR / USD rose 0.20% to trade at 1,1965, without being influenced by the index of consumer prices Spanish which came in at 0.1% in December versus 0.3% expected. Traders will now turn to the German index of consumer prices, due at 8: 00 (13.00 GMT).
The pound sterling was at its highest level since three weeks, also helped by the weak us dollar. The GBP / USD was trading at 1,3502, an increase of 0.42%.
The dollars of australia and new zealand have remained strong, with the AUD / USD to 0,7810 and the NZD / USD to 0,7113.