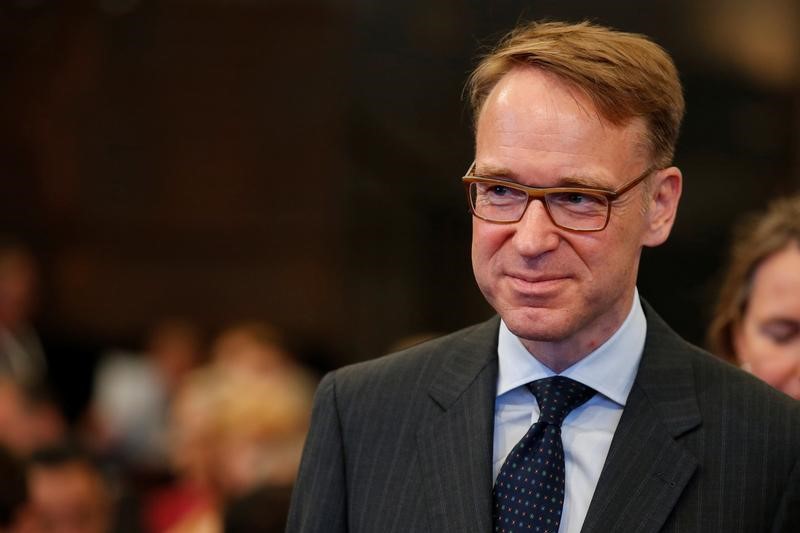 © Reuters. WEIDMANN (ECB) WOULD LIKE A SPECIFIC DATE FOR THE END OF QE

BARCELONA (Reuters) – The european central Bank is expected to set a date for the end of its asset purchase program, says Jens Weidmann, the Bundesbank president, in an interview published Sunday by the Spanish newspaper El Mundo.
Weidmann, presented as a potential candidate for the succession of ECB president Mario Draghi at the end of his mandate in October 2019, is a long-standing critic of the quantitative easing program (quantitative easing, QE) implemented by the ECB to stimulate activity and revive inflation.

"The outlook for price developments correspond to the return of inflation to a level sufficient to maintain price stability. For this reason, in my opinion, it would be justified to set a clear end to the asset purchases, bond stopping an actual date", he explains in the interview to El Mundo.
The ECB is committed to buying bonds until at least September. The growth of the euro area is currently at its highest for 10 years, and inflation back above 1% suggest that the QE will be quickly forgotten after this date.
Jens Weidmann also called on the banks to reduce their bad debts, noting that this difficulty impeded the implementation of the european mechanism to guarantee bank deposits called Edis (European deposit insurance scheme).
The Edis "could help strengthen the financial security in the euro-zone. Without doubt this would be a good thing. The problem, however, is that many banks have significant amounts of bad debts", he laments.
The creation of such guarantee for bank deposits is desired by the ECB, but faces the reluctance of Germany, which feared having to pay the note for the banks of other countries, italy in particular, weighted for credit losses.
Asked about the renewal of the leadership of the ECB, the president of the Bundesbank ensures that the candidate nationality should not come into account, rejecting the reservations of the former president of the Italian Council, Enrico Letta, who said last year not to want a German successor to Maria Draghi.

The Spanish minister of Economy, Luis de Guindos, has recently suggested that the vice-presidency of the ECB, which is currently occupied by the Portuguese Vitor Constâncio, whose term expires on the 1st of may, would go to a Spanish candidate.
Spain had no representative on the executive board of the ECB since the start in 2012, Jose Manuel Gonzalez Paramo. Luis De Guindos is seen in Brussels as one of the leading candidates for the presidency of the Eurogroup, a forum which brings together the Finance ministers of the euro area.
(Sam Edwards, Véronique Tison for the French service)