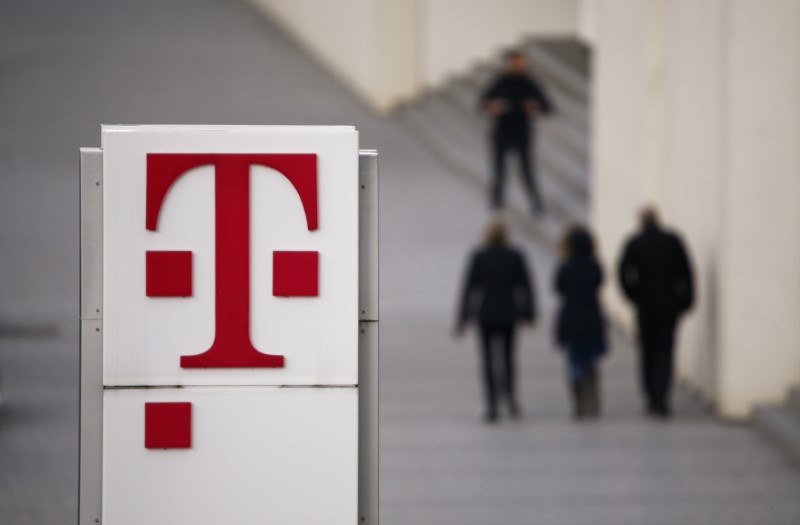 © Reuters. PAY DEAL AT DEUTSCHE TELEKOM

FRANKFURT/BERLIN (Reuters) – Deutsche Telekom (DE:DTEGn) and the trade union Verdi have signed an agreement for a wage increase of a maximum of 5.2% in two stages by march 2020, to 62.000 employees in the German group, announced Thursday the two parties.
The agreement, signed at the fourth round of negotiations, is responding to a growing movement followed by walkouts a day by the employees of the first telecoms operator european, in parallel to a strike of employees of the public sector represented also by Verdi.
Most of the employees of Deutsche Telekom were granted a wage increase of 3.1% on the 1st may, followed by another increase, of 2.1% a year later. The higher wages will be increased by 2.7% in may, and 2.1% a year later.

There will be no dismissals before the end of 2020 and the employees of the major divisions of Deutsche Telekom get 14 additional days leave from next year, instead of a reduction of working time of two hours per week to 36 hours, which had previously been agreed.
More than 45,000 employees in day care centres, public transport and other sectors have observed a third day of national strike on Thursday to the appeal of Verdi, which calls for an increase of 6% to 2.3 million employees in the sector.
The federal government and municipalities have rejected the application is deemed to be too high. The next round of negotiations will take place from 15 April.
(Douglas Busvine and Andrea Shalal, Juliette Rouillon for French service, edited by Bertrand Boucey)