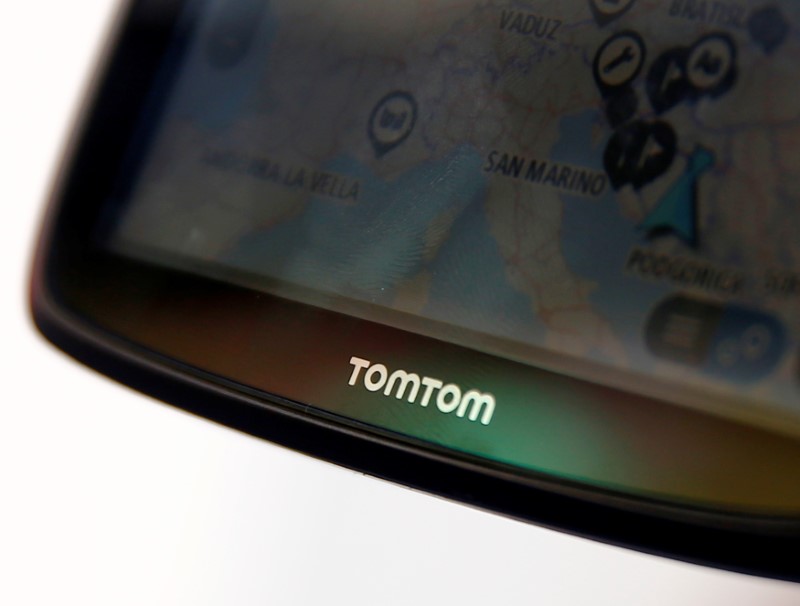 © Reuters. THE DUTCH TOMTOM IS LOOKING FOR A POTENTIAL BUYER

by Toby Sterling, Arno Schuetze and Kane Wu
AMSTERDAM (Reuters) – TomTom, the Dutch specialist in systems mapping and location-based navigation, has appointed Deutsche Bank (DE:DBKGn) to help him find a buyer or to sell a minority stake, has it learned Wednesday, two sources close to the matter.
"In response to market rumours, TomTom denies that it hired a financial adviser to seek potential buyers," responded the Dutch group on Wednesday evening in a terse statement.

The information of Reuters just before the close on Wednesday at the Amsterdam stock Exchange had allowed the action TomTom to pounce in the final exchanges to finish up 10,43% of 8.15 euros.
TomTom, which had prior to this flight a capitalization of about 1.74 billion euros, seeks to evaluate the interest of potential buyers, including asian investors, said the sources, adding that the Dutch company considered several strategic options.
Deutsche Bank has refused to speak on the subject.
TomTom suffers from several quarters of the disaffection for the personal navigation devices such as GPS, once its core business, an offer is now integrated in smartphones or the dashboards of cars.
Any buyer could, however, face regulatory obstacles due to the vigilance of the authorities, particularly in the United States and China, on this type of data proposed by the Dutch company.
The sales of TomTom, which counts among its customers or partners Apple (NASDAQ:AAPL), Microsoft (NASDAQ:MSFT), Uber, Daimler (DE:DAIGn) and Baidu, has dropped from 9% to 903 million euros in 2017 and it is expected to continue to decline this year, dropping to € 800 million.

The group has suffered a loss of 204 million euros last year after it was forced to depreciate the value of its consumer devices, which also sells watches and cameras.
The director-general Harold Goddijn, one of the four co-founders who each hold a stake of 11.1%, said the future of the company lay in the technology for autonomous cars. TomTom has won several contracts in 2015 and 2016 to provide systems of digital mapping of large manufacturers.
Harold Goddijn assured that others would follow in 2018.
When the Dutch businessman John De Mol has taken a 5% stake in TomTom in 2015, the newspaper Het Financieele Dagblad reported that he was urging the group to consider an alliance with the chinese Baidu or Tencent.
The Dutch association of shareholders VEB for his part, invited TomTom to reflect on various tracks such as the transfer of certain assets, a management buy-out, acquisitions, or finding a buyer.
She wondered if the founders and the board of directors are sufficiently attentive to the interests of minority shareholders.
(Toby Sterling in Amsterdam, Arno Schütze, Frankfurt and Kane Wu in Hong Kong; Bertrand Boucey for French service, edited by Véronique Tison)