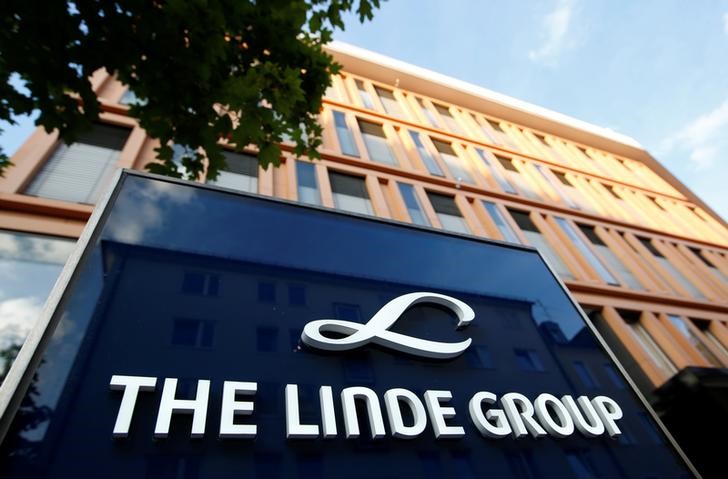 © Reuters. LINDE: DISPOSALS MORE ONEROUS TO MERGE WITH PRAXAIR

FRANKFURT (Reuters) – The specialist in industrial gases Linde reported on Tuesday that the various competition authorities should require divestitures more important than he had thought to allow its fusion of 84 billion dollars (68 billion euros) with its american competitor Praxair.
But the German group said that it would not be obliged to assign activities for which the revenues and profits would exceed the thresholds agreed with Praxair in their project of creation of an actor the world leader in the sector.
Linde and Praxair are willing to sell assets representing up to $ 3.7 billion of sales, or $ 1.1 billion of gross operating income (Ebitda). Beyond that, the two parties might either abandon their merger, or attempt to renegotiate the terms of their agreement.
"The discussions with the various competition authorities suggest that to get the green light to the merge (…) will be a function of more onerous requirements than had been anticipated," explains the German group of industrial gases in a press release.
The two companies expect that the european Commission, in particular, opens in-depth investigation, as is standard in the case of complex transactions.
A spokesman for Linde said that the group was still waiting to complete the transaction by the deadline of October 24.
Sources close to the matter had said in October that the two groups were preparing to sell assets representing an Ebitda total of 650 to 750 million euros; but another source had indicated that it should be rather of $ 800 million.
The assets offered for sale should represent a total value lying between 6.5 billion and 7.5 billion euros.
The european Commission has refused to specify what would be the conditions required to obtain the green light.
"Our investigation is ongoing. The deadline remand for a decision of the Commission is on the 16th of February," she said.
(Ludwig Burger, Wilfrid Exbrayat and Juliette Rouillon for the French service)