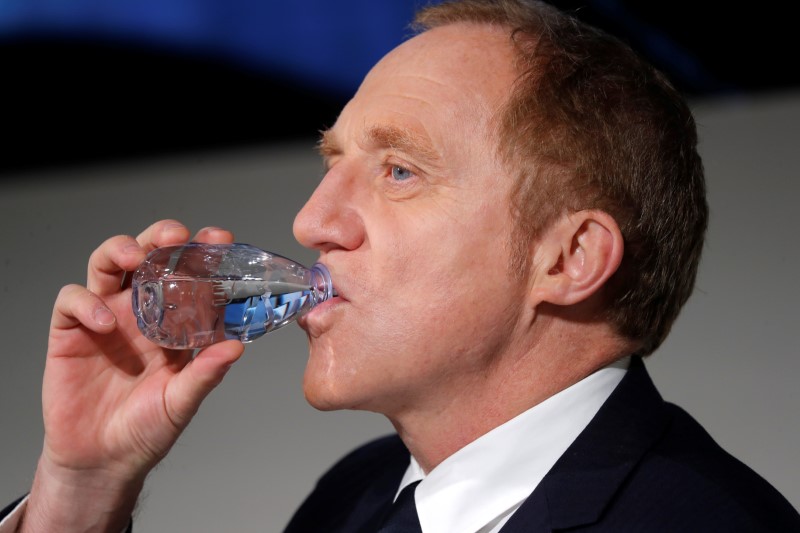 © Reuters. KERING "VERY QUIET" ON THE REGULARITY OF TAX OF ITS OPERATIONS

PARIS (Reuters) – The CEO of Kering (PA:PRTP) said on Thursday to be "very quiet on the regularity of the transactions" of the luxury group, challenged by the site Mediapart for suspicion of tax evasion.
The figures "very important" cited by the press "are based on nothing tangible (…) and there is no complaint today notified neither Kering nor Gucci by the Italian tax authorities on which we could extrapolate the figures of this magnitude," he also said François-Henri Pinault, in response to a question during the general assembly of the shareholders of the group.
According to Mediapart, Kering has escaped to 2.5 billion euros in taxes between 2002 and 2017, including $ 180 million in France, through the platform of logistics and distribution LGI based in Switzerland.

The CEO reiterated that the "governance put in place was aimed at a full compliance vis-à-vis the fiscal regulations current in (his) country of exploitation".
He also repeated that the operating model of GIP was known to all tax authorities and that all swiss companies had an economic activity as "effective" and paid "all taxes due in accordance with the tax regulations of the cantons in which they occur".
Referring to two subsidiaries of the group also cited by Mediapart, the one based in the netherlands and the other in Luxembourg, it was assured that they did "no" tax benefit to Kering.
The CEO reiterated that the group was not covered by any complaint for tax fraud and that he cooperated fully with the Italian justice on the ongoing investigation about Gucci.
The claw Italian, the main source of the profit of Kering, is the subject of an investigation by the public prosecutor of Milan since November 2017 for suspicion of tax evasion.
François-Henri Pinault has also said that, as a staff, "very respectful of the tax laws".

"I live in England but I am a non-resident French tax. I pay my taxes in France, and it is important for me."
(Pascale Denis, edited by Dominique Rodriguez)