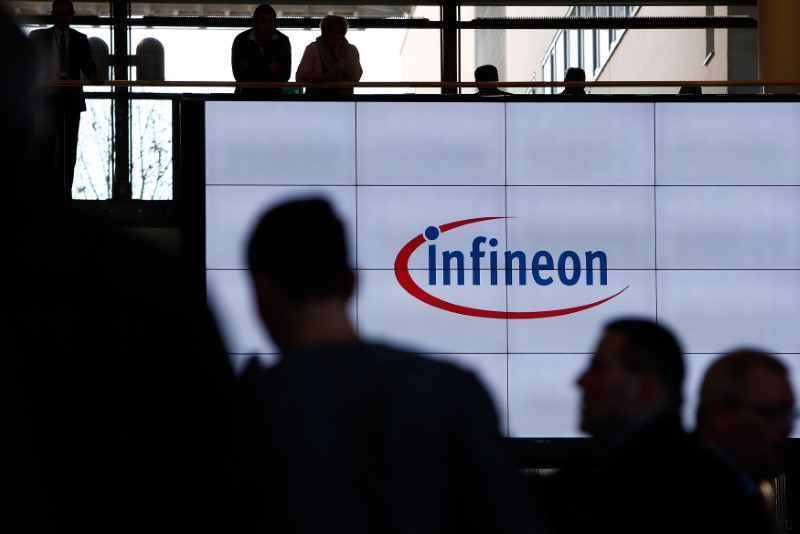 © Reuters. INFINEON DOES NOT CONSIDER ITSELF AS A TARGET OF REDEMPTION

FRANKFURT (Reuters) – Infineon does not consider itself as a target of redemption in spite of the movement of concentration in the industry of semi-conductors, a process which culminated last month with the offer of $ 103 billion of Broadcom (NASDAQ:AVGO) on its rival Qualcomm (NASDAQ:QCOM), says its chairman of the management board in an interview published on Saturday.
"Infineon is not a priority target," says Reinhard Ploss in the columns of the Börsen-Zeitung. "We communicate very clearly to the outside about the fact that we can and want to fly from our own wings."

"My impression is that the message is understood very well by the market, including chinese investors, who ordinarily have no strategy hostile takeover vis-à-vis high-tech companies."
Reinhard Ploss ensures that the price/earnings ratio of 27 about posted by Infineon has something to satisfy the shareholders of a German manufacturer of semi-conductors.
The PER values the group at 26 billion euros on the market, an amount that a potential buyer would be hard-pressed to significantly increase, " he adds.
A bid could also face difficulties with the regulatory authorities, given the strong position of Infineon in security technology in Germany and his presence in the United States, " adds Reinhard Ploss.
The chairman of the management board of Infineon is said to have learned the lessons of failure, last February, to the acquisition by its group of the american manufacturer of chips Wolfspeed, which met with the opposition of the us authorities for matters of national security. Infineon, he said, intends to extend its network policy in the United States.

(Georgina Prodhan; Jean-Stéphane Brosse for the French service)