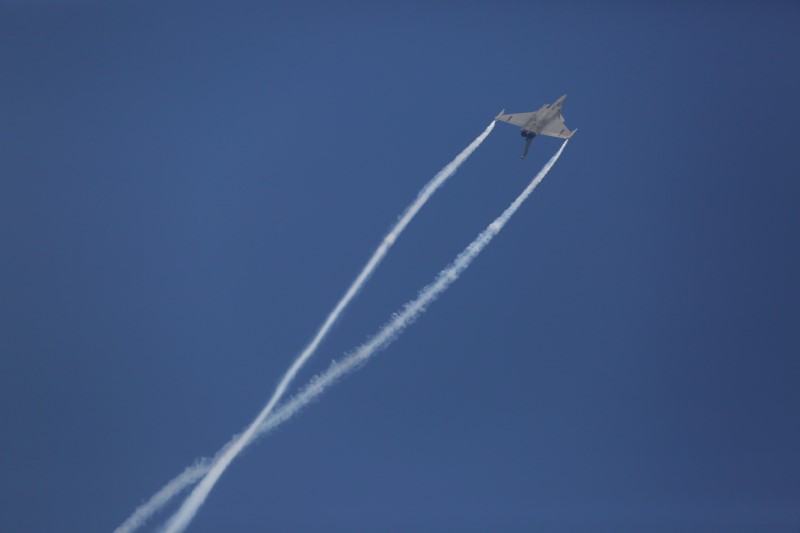 © Reuters. DASSAULT IS SEEN A LEADER FOR THE FUTURE HUNTER EUROPEAN

FRANKFURT (Reuters) – Dassault Aviation wants to take the lead on the development of the future european fighter aircraft in the framework of the programme on franco-German air combat system of the future (Scaf), said its director-general in the WirtschaftsWoche.
"Experience has shown that if we want a defence project to succeed, it is necessary that someone be the leader, the leader," said Eric Trappier said in an interview granted to the German weekly.
France and Germany are expected to announce the first details on the future successor of the Rafale (built by Dassault), Eurofighter (built by Airbus (PA:AIR), BAE Systems (LON:BAES) and Leonardo) and the Swedish Gripen during air show ILA held in Berlin from 25 to 29 April.
"We can take the leading role", said Eric Trappier, cited by WirtschaftsWoche.
"The fact is that we are the only company in Europe to be able to build a fighter aircraft, complete from A to Z, and that we are the only ones to have 70 years of experience and skills," he argues.
He said not to expect an opposition to Airbus if the european group was to have a secondary role in the project, according to the magazine.
The general director of Airbus Defence and Space, Dirk Hoke, has also claimed responsibility last year for the leading role in the program, in view of the importance of the project for the european aerospace industry.
"It is a joint program of the franco-German, and it is obvious to everyone in the sector that there must also be a joint effort of the industry," said the spokesman of Airbus, Florian Taitsch, to the question of what he thought of the words of Eric Trappier.
A spokesman for the German ministry of Defence has refrained from any comment.
(Maria Sheahan, with Andrea Shalal; Claude Chendjou for the French service, edited by Bertrand Boucey)