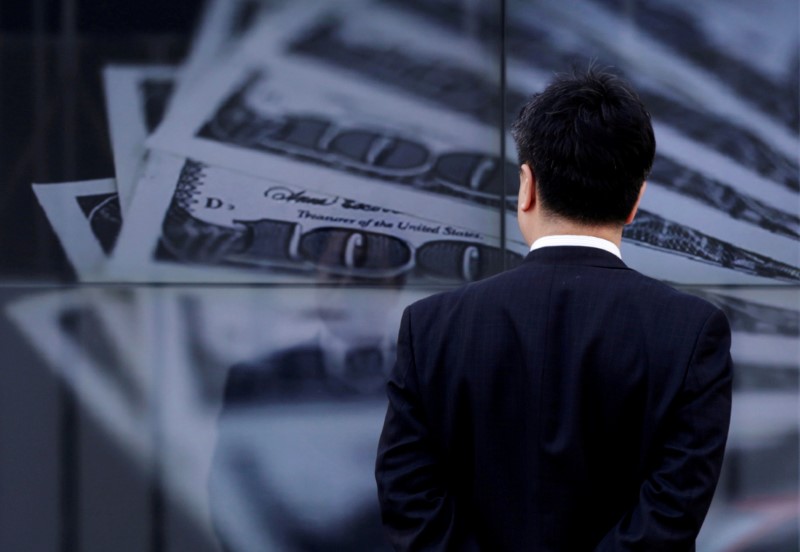 © Reuters. The dollar is stable and remains supported above a lower

The dollar was stable against a basket of other major currencies on Monday, remaining supported above a low last week after a slight rebound on Friday.
The dollar index, which measures the greenback's strength against a basket of six major currencies, was unchanged for the day at 89,03 at 03:21 AM (08:21 GMT).
The index finished up 0.63% on Friday, having fallen earlier to a minimum of 88,15; a lowest since December 2014. The index was down 1.46% last week, marking its fifth weekly drop in the past seven weeks.
The expectations of a monetary tightening faster outside of the United States, which would reduce the divergence between the federal Reserve and other central banks, have eroded the relative attractiveness of the dollar for investors.
The greenback was also hit by concerns that the large reductions in corporate tax and the increase in government spending will have a negative impact on the u.s. budget deficit, which is expected to swell to nearly $ 1 trillion in 2019.
The declines in the dollar occurred despite expectations for an acceleration of rate increases by the Fed this year after data last week showing a higher-than-expected u.s. inflation in January.
The dollar rose against the yen, with USD / JPY rising 0.32% to 106,53, from a low of 15 months 105,55
The japanese currency has gained about 6% against the dollar so far this year.
The sharp decline of the dollar against the yen in recent sessions has fuelled the speculation about the intervention of the japanese authorities.
The spokesman of the japanese government, Yoshihide Suga, said Friday that the recent movements on the foreign exchange market were unilateral and that the government would take appropriate measures if necessary.
The euro was little changed, with the EUR / USD 1.2412. The single currency reached its highest level since 2014 1,2555 Friday, before ending the day down 0.79%.
The book has been less affected, with the GBP / USD sliding 0.09% to 1,4014.