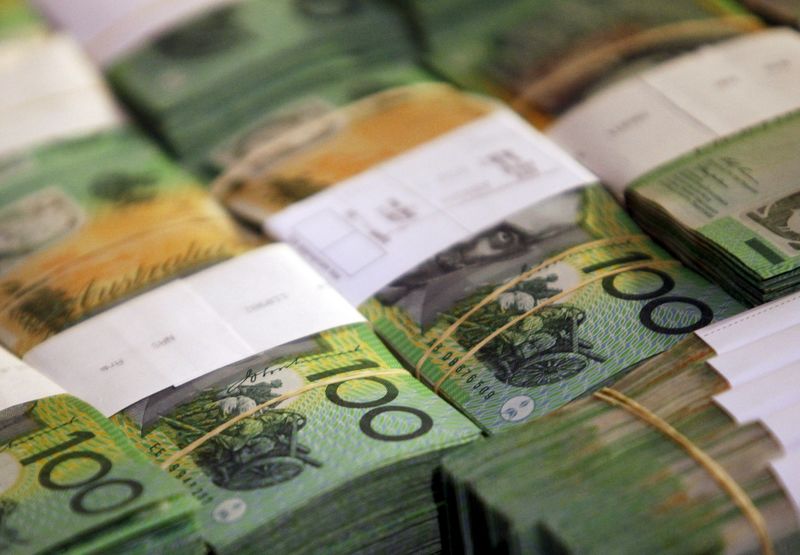 © Reuters. The Aussie and the Kiwi declined, the focus on the RBNZ

The dollars of australia and new zealand are retreating on Wednesday against their u.s. counterpart, with investors remaining cautious following a rout of nearly three days on the global equities and in view of the Reserve Bank of New Zealand.
The AUD / USD slid 0.39% to 0,7874, close to a low of 0,7836 reached the previous day, which lasted three and a half weeks.
The sentiment in the market has declined after the global stock markets have begun to plunge on Friday after the release of strong employment figures in the United States, which have raised fears of a rise in inflation, leading to a sharp rise in bond yields.
The Dow Jones Industrials has been particularly hard hit Monday, when it recorded its worst fall daily in the history.
However, us stocks rebounded on Tuesday, leading to a drop in the greenback, which had benefited from the sharp decline on Wall Street.
The pair NZD / USD fell 0.41% to trade at 0,7313, not far from the lowest of two weeks of 0,7261 recorded on Tuesday.
Market participants await the policy decision from the RBNZ, scheduled for Thursday. The central bank should leave interest rates unchanged at 1.75%.
Investors will focus in particular on the policy statement of the RBNZ for potential indications on the future developments of the policy of the central bank.
The dollar index, which measures the greenback's strength versus a weighted basket based on the trade of six major currencies, was down 0.10% to 89,44 at 02h10 ET (06h10 GMT), after touching 89,92 Tuesday.