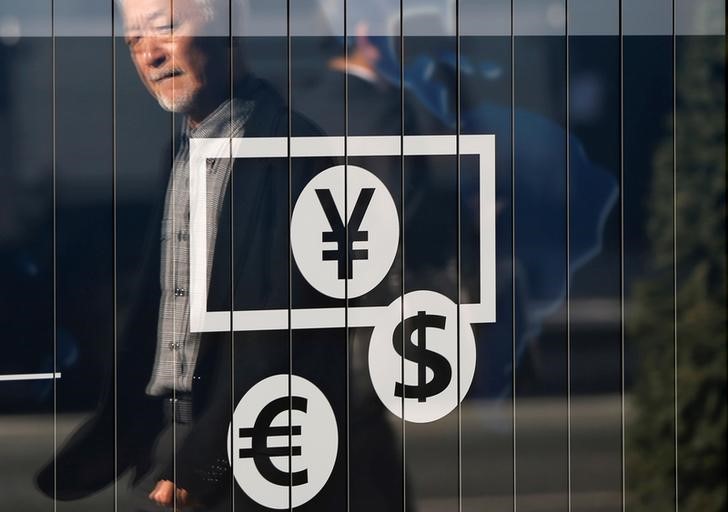 © Reuters. The euro rose, the dollar and the yen slide

Investing.com – The euro rose on Tuesday while the political risk in Germany is released, and the dollar and the yen have receded, concerns about trade tensions have decreased, although investor confidence remained fragile.
The EUR / USD was up 0.26% at 1.1669 at 04:02 AM (08:02 GMT) after having ended the previous session down 0.32%.
The euro was boosted after German chancellor Angela Merkel has entered into an agreement with the coalition partners, resolving a dispute that had put in doubt the future of the government.

The dollar index, which measures the strength of the dollar against a basket of six major currencies, was down 0.2% 94,41.
Equity markets in asia had experienced a belated recovery after collapsing during the night, but the investors remained on the reserve in anticipation of the deadline in the trade dispute between the United States and China.
The u.s. tariff on chinese imports of 34 billion dollars expected to enter into force on the 6th of July, as China is about to retaliate with tariffs on the same value of u.s. products.
The us president, Donald Trump is continuing with its plans to penalise the main trading partners, including the european Union, Mexico and Canada, in the framework of its policy of "America First" which, in the opinion of many investors, is expected to impact the global growth.
The dollar rose slightly against the yen, with the USD / JPY slightly up to 110,98.
The euro also gained ground against the yen, with EUR / JPY rising 0.36% to 129,52.

The pound sterling is progressing with the GBP / USD up 0.27% to 1,3156.
The australian dollar and new zealand have also increased, with AUD/USD rising 0.64% to 0.7386 and NZD/USD rising 0.15% to 0,6725.
The Central Bank of Australia has left interest rates unchanged and stated that the commercial policy of the United States was a source of uncertainty about the global economic outlook.