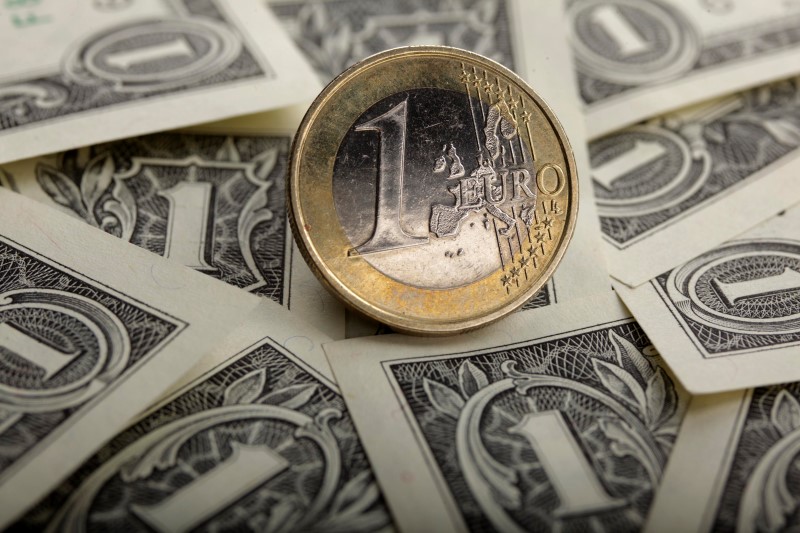 © Reuters. EUR/USD, Euro-Dollar

After weakening this morning, the pair EUR/USD is trying to bounce back, with a recent summit on the psychological threshold of 1.16.
It should be remembered that the Euro Dollar has somewhat suffered this morning for comments once more dovish members of the ECB, with the governor of the Bank of France Villeroy, which has in turn contributed to pushing the rate hike expectations from the ECB, believing that " the first rate increase from the ECB could intervene in the summer of 2019. "
Nowotny, head of the central bank of Austria, for its part, has stated that it expects a decline of the Euro against the Dollar.
However, after a weak morning and a low daily on 1.1536 (against 1.1530 yesterday), the EUR/USD pair attempted to bounce back, scoring this afternoon for a summit on the psychological threshold of 1.16.
The upward movement however, does not seem convincing, and weakens already facing the resistance of 1.16, and to the moving average 100 hours, currently located at 1.1595.
Also note that programmed operations of Powell, boss of the Fed and Draghi, boss of the ECB, at 15.30, do not have much impact on the trade.
Powell reiterated that the likelihood that the Fed will continue its rate hikes gradual is " high ", warning, however, that inflation has yet to prove its ability to maintain close to the Fed's goal.
It was also felt that the modest growth in wages implies that the labor market is not yet too narrow, which induces a margin of progress in terms of jobs.
For his part, Mario Draghi has been estimated in Europe that the factors that prevent the wage increase dissipate gradually, stressing his confidence in the fact that inflation returns towards the target of the Central Bank.
Overall, the bias remains so bearish on EUR/USD, with an immediate hurdle on the 1.16, although the uncertainty is gaining ground. In the event of a rise above 1.16, we will first 1.1635-50, of which the break would question the bearish view on the immediate, and it will be necessary in this case to keep an eye on the resistance of 1.1675, 1.17 and 1.1730.
In case of a decrease, the first major support is located at 1.1530 (low of yesterday), a threshold whose break would confirm the negative bias, with support at 1.1520, 1.15 and 1.1480 to monitor.