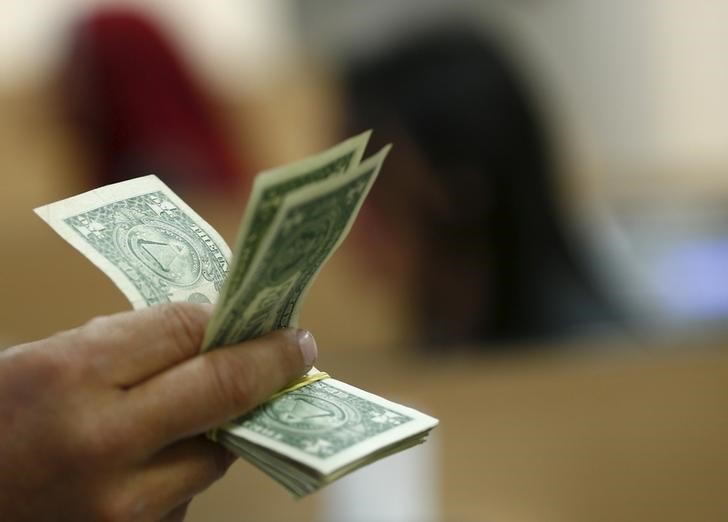 © Reuters. The dollar rebounded on the view of the Fed

The dollar bounced on Wednesday, breaking a series of three weeks of losses, as investors await the minutes of the December meeting of the Federal Reserve later in the day.

The dollar index, which measures the greenback's strength versus a weighted basket based on the trade of six major currencies, has gained 0.19% to 91,73 at 08:34 AM ET (13:35 GMT).
The index ended the year down 9.8%, the biggest annual decline since 2003.
The dollar has weakened in 2017 when the global economy was expanding and harbored expectations of a tighter monetary policy in other countries, which would reduce the discrepancies between the federal Reserve and other central banks.

The market operators were looking forward to the minutes of the Fed meeting of December for new clues on the future monetary policy.
Investors were also still waiting for the u.s. report on the payroll, non-farm, published in December.
The euro declined on Wednesday after a rally prompted by the forecast that the European Central Bank will start this year the reduction of its asset purchase program, with the EUR/USD was down 0.27% at 1.2026.
The single currency touched a high of four months of 1.2080 Tuesday, close to the highest level since 2015 estimated at 1.2092.
The euro was boosted after data showed that the manufacturing sector of the euro area had grown at a record pace in December, reinforcing expectations that the ECB will start to reduce its asset purchase program later this year.
The dollar exchange rate against the yen, with USD/JPY at 112.23, close to an over two-week low of 112.04.
The pound declined against the greenback with the GBP/USD down 0.22% to 1.3557, pulling away from a high of three weeks of 1.3612.
Sentiment on the pound is attenuated after figures have shown that the growth sector of the uk construction had slowed in December after forecasts for a reading unchanged.