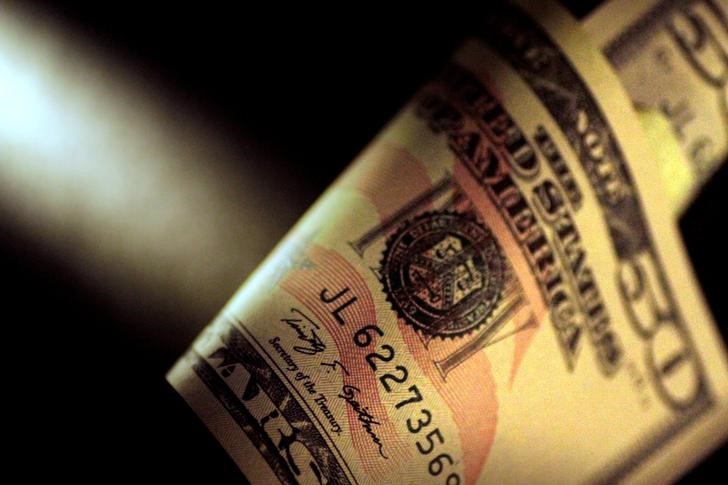 © Reuters. The dollar is under pressure in view of the Fed

The dollar is suffering from new selling pressure on Wednesday, dropping further against a basket of other currencies in view of the decision of Federal Reserve policy.
The index dollar, which measures the greenback's strength against a basket of currencies, gave up 0.24% to 88.81 at 02:55 AM ET (07:55 AM GMT).
The dollar was on track for a strong monthly decline relative to its peers, with the index down by approximately 3.0% on the month at the time of writing.

The dollar has been under pressure since it has lost its relative attractiveness for investors. A monetary tightening faster outside of the United States would reduce the divergence between the federal Reserve and other central banks.
The dollar has reacted to the speech of the State of the Union, the american president Donald Trump, in which he urged the Congress to enact legislation to stimulate at least $ 1.5 trillion in new infrastructure spending.
Investors remained cautious before a series of events this week, including the policy meeting to two days of the Fed, which ends later on Wednesday and the report of u.s. employment for January due Friday.
While the Fed should not make any changes to the monetary policy, the meeting was the last time that Janet Yellen would occupy the position of president of the Fed's Jerome Powell back in the role.
The euro is gaining ground with EUR/USD rising 0.34% to 1.2444, returning to a high of more than three years, reached last week and estimated at 1.2537.
The single currency has advanced 3.5 percent against the dollar in January.

The dollar depreciated against the yen, with a decline of the USD / JPY to 108,71, not far from the lowest in four and a half months of 108,27 recorded last Friday.
The pound sterling has increased, with GBP / USD rising 0.18% to 1,4170.