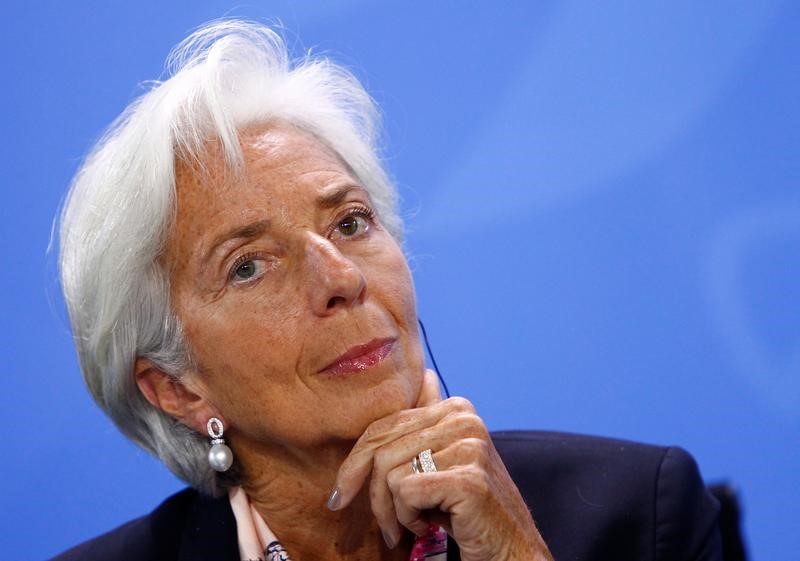 © Reuters. THE IMF WILL REVISE DOWN ITS FORECASTS FOR THE EURO AREA, SAYS LAGARDE

LUXEMBOURG (Reuters) – The international monetary Fund will revise down its growth forecasts for the euro area in order to take account of the increased risks arising from tensions in international trade, sanctions against Russia and Iran as well as of the next release of the United Kingdom of the european Union, said on Thursday its director general, Christine Lagarde.
The next forecast published in July will be revised slightly lower, but the IMF does not expect a "marked slowdown", she said during a press conference in Luxembourg on the sidelines of a meeting of Finance ministers of the euro area.
In April, the Fund was said to predict growth of 2.4% in the eurozone this year before a deceleration to 2.0% in 2019.
The tariffs imposed by the Usa on imports of steel and aluminum are a major source of concern for the future growth of the euro area, said Christine Lagarde. The difficult ongoing negotiations on the Brexit add to the uncertainties, she added.
The IMF is also waiting for more clarity the new Italian government on its economic policy, has continued to Christine Lagarde.
"We do not yet know what is the general framework of economic policy that will apply," she said.
"We hear statements reassuring in terms of budgetary discipline or trajectory of the debt", she noted while lamenting the lack of detail at this stage.
"The markets are quite nervous," she observed, adding that an IMF mission will be in Rome in two weeks for a routine visit.
(Francesco Guarascio and Jan Strupczewski, Véronique Tison for the French service)