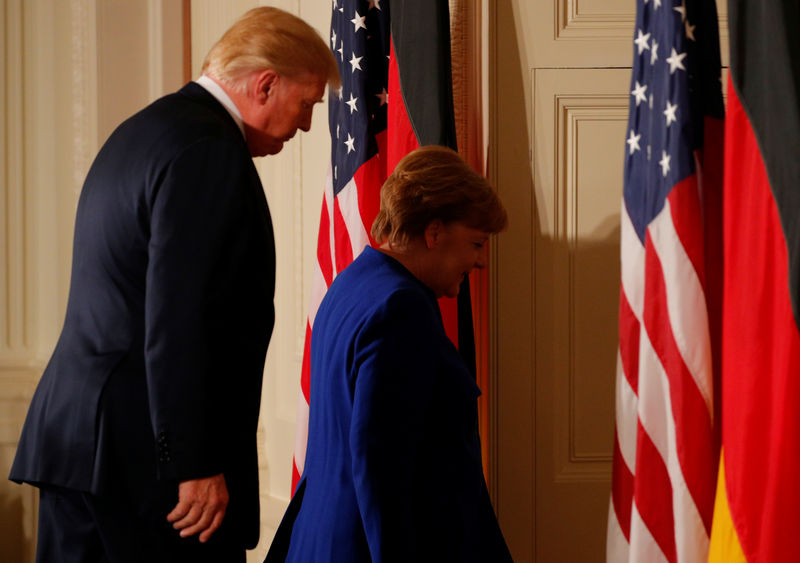 © Reuters. THE BUSINESS CIRCLES Of GERMANS WORRIED about THE CUSTOMS DUTIES US

BERLIN (Reuters) – The business communities in germany have expressed Saturday its disappointment after the brief meeting between Angela Merkel and Donald Trump, expressing their fears that the american administration to apply tariffs advertised on imports of steel and aluminum.
Washington had decreed in march the adoption of rights of 25% steel and 10% aluminum, but had granted a moratorium to the european Union until 1 may.
"I regret that the visit of chancellor merkel to Washington has produced no tangible progress on the contentious issues between Germany and the United States," said Dierter Kempf, president of the federation of German industries (BDI).

During the joint press conference with the leader German, Donald Trump complained about the trade deficit of the United States against the european Union.
Angela Merkel has tried to explain that any decision relating to an exemption in favour of the block community was now within the purview of the will of the american president.
"The issue of tariffs remains a major burden for the transatlantic relationship," said Dieter Kempf.
During his State visit of three days in Washington, the president of france Emmanuel Macron has also argued for an easing of the u.s. position. None of the two leaders seems to have convinced Donald Trump.
"Unfortunately, it seems that the EU will not be exempted from the u.s. tariff unjust," said Volker Treier of the German chamber of industry and commerce.

(Tom Koerkemeier and Gernot Heller; Peter Sérisier for the French service)