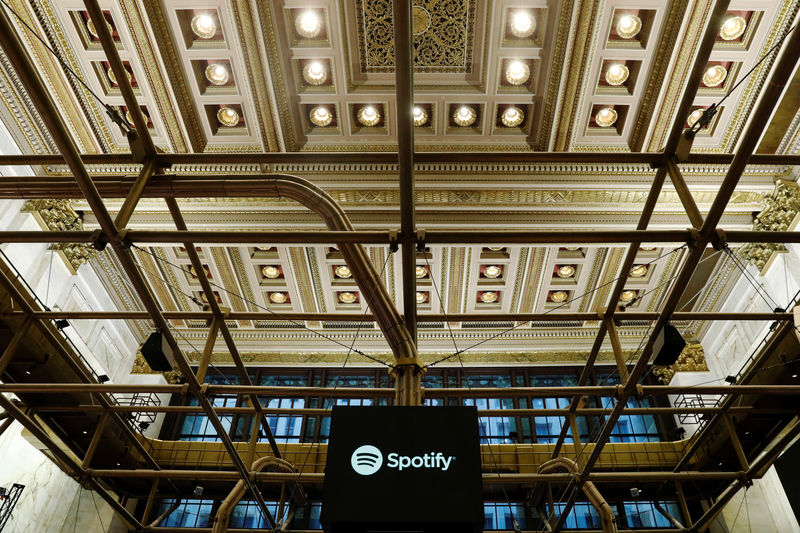 © Reuters. SPOTIFY DISAPPOINTS WITH ITS SALES, THE TITLE FALLING

(Reuters) – Spotify (NYSE:SPOT) Technology announced Wednesday a turnover and forecasts of subscribers below the expectations of investors, resulting in a stall of nearly 10% on its title in the trade after the stock Exchange on Wall Street.
The Swedish streaming music, which published its first results since its ipo a month ago, has reported a turnover of 1.14 billion euros for the first quarter, up 26% (+37% at constant exchange rates).
This figure is in line with the forecast of 1.10-1.15 billion euros advanced by the group, but it lacks a little the consensus of 1,143 billion prepared by Reuters from estimates of 13 analysts.
Under the effect of many promotions, the average revenue per user has declined to 4,72 euros, while it amounted to 6,84 euros at the end of 2015.
Spotify expects the number of paid subscribers between 79 and $ 89 million in the second quarter, mid-range is lower than the 81,79 million expected by the consensus Thomson Reuters I/B/E/S.
The share fell 9% in electronic trading to Wall Street after closing up 3.10% to 170,00 dollars. The action had made his debut at 132 dollars on April 3 on the New York Stock Exchange.
"The results and the forecasts are roughly in line with expectations, but the reaction of the title suggests clearly that investors were hoping for a little better," said James Cordwell, analyst at Atlantic Equities.
This specialist observes in particular a low-growth group in North America, where it has been hit hard by competition from Apple (NASDAQ:AAPL) and Amazon (NASDAQ:AMZN).com.
Spotify expects second quarter revenue between $ 1.1 billion and $ 1.3 billion, or a growth of between 10 and 29% and between 20% and 38% at constant exchange rates.
It anticipates a gross margin of 24 to 26%, in line with the 24.9% announced for the first quarter.
The group maintains its forecasts for the year as a whole, building on a number of monthly active users between 198 and 208 million).
At the end of march, this number amounted to 170 million, up year on year, of which 75 million paying subscribers (+45%), a figure somewhat higher than the 74,43 million expected by analysts.
The first quarter posted a loss of € 41 million, significantly reduced compared to that of 139 million a year earlier.
(Eric Auchard in London and Munsif Vengattil in Bangalore, with contributions by Olof Swahnberg and Helena Soderpalm in Stockholm, Véronique Tison for the French service)