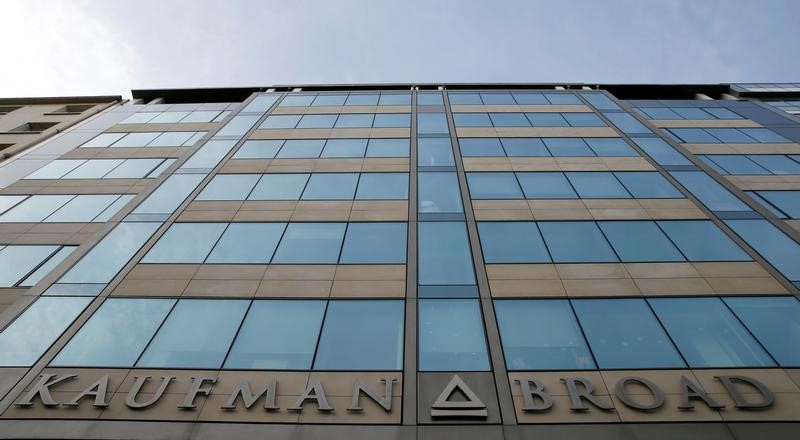 © Reuters. KAUFMAN&BROAD CARRIED BY THE HOUSING DYNAMIC, DECELERATION IN ORDER

PARIS (Reuters) – Kaufman & Broad announced on Tuesday an increase of 12.3% of its turnover, and an increase of 0.4% of its gross margin to 19.4% as of 2017, driven by the dynamism of the housing market in France, and expect a slight deceleration in 2018.
The real estate developer has achieved an annual turnover of 1.390,8 million, of which € 1.213,7 million euros in its pole housing (+14.5 per cent).
For the year 2018, the group writes in a press release that the growth of its turnover should be of the order of 8% to 10%.

It added that its gross margin should remain around 19% and that the rate of Ebit adjusted is expected to be between 8.5% and 9% compared to 9.1% in 2017 (from 8.8% in 2016).
The board of directors will propose a dividend of 2.10 euros per share in respect of 2017, an increase of 13.5% compared to the dividend paid to 2016 (from 1.85 euro per share), the shareholders who have the opportunity to see it in cash, in shares or in cash and in shares.
In Exchange, the action, Kaufman & Broad has ended 41,24 euros on Tuesday before these ads, showing a market capitalisation of 869 million euros.
The title progresses of 4.1% since the beginning of January, having earned 17,25% in 2017. For comparison, the sector index Stoxx european values of real estate has earned 7,17% last year and yields 2.4% this year.
(Dominique Rodriguez, edited by Wilfrid Exbrayat)