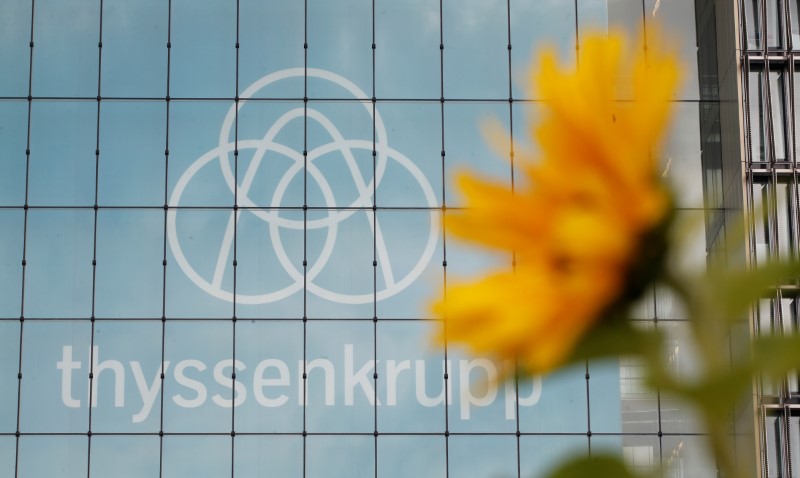 © Reuters. CEVIAN PUTS PRESSURE ON THE MANAGEMENT OF THYSSENKRUPP

FRANKFURT (Reuters) – The investor activist Cevian, the second shareholder of Thyssenkrupp, has criticised the chairman of the management board of the industrial conglomerate German Heinrich Hiesinger for not having achieved the objectives it had set itself, increasing its pressure prior to the annual meeting of the group scheduled for Friday.
Cevian, which holds a stake of 18%, has reiterated its calls for a restructuring of the company, while Heinrich Hiesinger is seeking to complete the merger of the pole european steel Thyssenkrupp with that of the indian Tata Steel.
"Thyssenkrupp is not growing the way that we expected. Something needs to change in the structure of the group," said Lars Förberg, a co-founder of Cevian, the Frankfurter Allgemeine Sonntagszeitung.

At the same time, the weekly Der Spiegel reported that Heinrich Hiesinger would announce to the shareholders that the group had reduced its debt significantly in recent years and had invested billions of euros, while the restructuring was at work.
Heinrich Hiesinger, and the management consider that these results are a success, said Der Spiegel, citing sources, even if the group has not achieved its goal of a profit of two billion euros in 2017.
Lars Förberg has criticised the long-term objective of Heinrich Hiesinger to achieve operating margins of 6 to 7 % for activities outside of the steel group.
"Even today, the company does still only at half of its margin target. It is simply too weak," he told the Frankfurter Allgemeine Sonntagszeitung in its edition published on Sunday.
He has not responded directly to the question of whether Heinrich Hiesinger had to resign, but said : "If a policy reaches the goal, we must change. This is what we expect at the time of management of Thyssenkrupp and supervisory board."
Cevian had already previously question publicly on the relevance of the structure of conglomerate, recommending a split of the most cost-effective, such as elevators, which represent half of the operating income.

In the third quarter, the German group has announced a profit of the annual operating better than expected and its highest order intake for five years, thanks to demand for its lifts and components for the automotive industry.
(Douglas Busvine; Catherine Mallebay-Vacqueur for the French service)