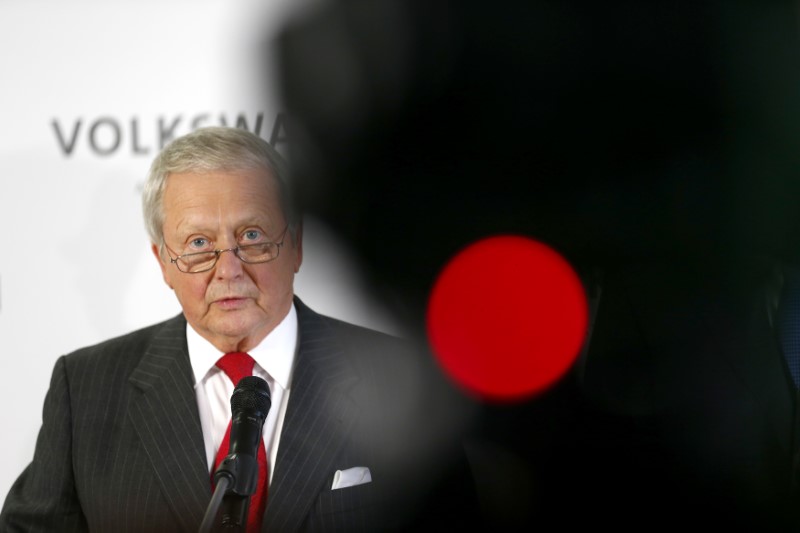 © Reuters. A SHAREHOLDER OF VW AGAINST THE CONTINUATION OF W. PORSCHE

FRANKFURT (Reuters) – A shareholder of first plan of Volkswagen (DE:VOWG_p) wishes Wolfgang Porsche is not re-elected to the supervisory board on the occasion of the general assembly next month, reported the Sunday newspaper Frankfurter Allgemeine Sonntagszeitung.
In a counter-motion of six pages prepared for the AG, Christian Strenger denounces a "conflict of interest" due to the fact that Wolfgang Porsche also chairs the supervisory board of Porsche Holding, the controlling shareholder of VW.
He also accuses this member of the founding family of VW's"inaction" in the face of the bad conduct of the leaders of the automotive group in the scandal of the polluting emissions of diesel engines, says the Sunday paper.

Christian Strenger calls for the entry of "personalities really qualified" for the supervisory board of VW.
Strenger is a small shareholder of VW, but his past as a founding member of the Committee on corporate governance created by the government make a voice heard and respected in Germany. He has also led the DWS, the branch of asset management of Deutsche Bank (DE:DBKGn).
Strenger and Volkswagen did not respond to requests for comment over the weekend, the press service of Porsche.
(Tom Sims, Véronique Tison for the French service)