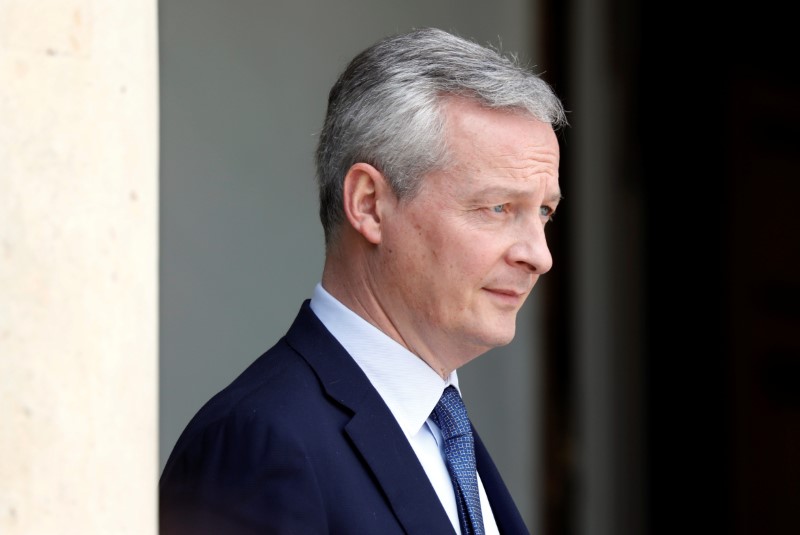 © Reuters. A BILLION To ECONOMY ON AID TO BUSINESSES AT THE start

PARIS (Reuters) – The government intends to identify, by September, to one billion euros of savings on aid to businesses, announced on Sunday the minister of Economy and Finance, Bruno Le Maire.
The minister said Sunday at the microphone of the Grand Jury RTL Le Figaro LCI on the schedule of "full review" of aid to undertakings in which the State spends each year nearly 140 billion euros. He had already announced that the review of these subsidies and their economic benefits would include reduced rates of VAT.
"I hope that by the month of September we have identified a billion euros in savings to aid which are made to companies", he said.
"I asked the Council of economic analysis (CAE) to help me do this work of examination of aid to undertakings",-he said.
"Those that are effective, those which create employment and activity will be maintained. Those who can't provide proof of work or activity, they are not meant to be", he warned.
Beyond the services of Bercy, which perform this analysis in the aim of achieving five billion euro of savings over the five-year programme, parliamentarians, as well as the employers ' organisations and trade unions have already been invited to make their contribution.
The savings in the field of aid to undertakings are intended to cover the cost of the provisions of the future law "Covenant" (action Plan for growth and business transformation), estimated at a little over a billion a year.
(Julie Carriat, edited by Myriam Rivet)